• May 28, 1885 Horace King, the most respected bridge builder in Alabama, Georgia, and northeastern Mississippi during the mid-1800s, died. King was born enslaved September 8, 1807 in the Chesterfield District of South Carolina. In 1830, he was purchased by a contractor who taught him bridge building skills. Soon the pupil became more skilled than the teacher. Between 1838 and 1840, King supervised the construction of toll bridges over the Chattahoochee River. During the early 1840s, he designed and constructed bridges in Alabama and Mississippi. In 1846, King earned his emancipation. In the early 1850s, the state of Alabama hired King to do carpentry work, including construction of the circular staircases at the new capitol building in Montgomery. During the Civil War, King was forced by Confederate officials to build blockades on the Apalachicola River and Alabama River to prevent Union navigation. He was also forced to build a large mill to supply wood products for Confederate naval facilities. After the Civil War, King served in the Alabama House of Representatives from 1870 to 1874. In 1989, a historical marker honoring King was unveiled in LaGrange, Georgia.
• May 28, 1888 Cyril Valentine Briggs, writer and political activist, was born in Nevis, West Indies. Briggs moved to New York City in 1905 and got his first writing job at the Amsterdam News in 1912. In 1917, Briggs founded the African Blood Brotherhood to stop lynching in the South and racial discrimination in the North. In 1918, the ABB began publishing a magazine called The Crusader. As the leader of the ABB, Briggs called for "control by African American workers of the means of production which employed them, whether in industry or in agriculture." He also became a leading exponent of racial separatism, calling for "government of the Negro people, for the Negro people and by the Negro people." By the mid-1920s, the ABB began to lose influence and Briggs died October 18, 1966.
• May 28, 1910 Aaron Thibeaux "T-Bone" Walker, hall of fame blues guitarist, singer and songwriter, was born in Linden, Texas. Walker learned his craft as a teenager and made his debut recordings, "Wichita Falls Blues" and "Trinity River Blues," in 1929. Much of his output was recorded between 1946 and 1948, including "Call It Stormy Monday" (1947). In 1971, Walker won the Grammy Award for Best Ethnic or Traditional Recording for "Good Feelin'." Walker died March 16, 1975. In 1985, he posthumously received the Grammy Lifetime Achievement Award. He was posthumously inducted into the Blues Hall of Fame in 1980 and into the Rock and Roll Hall of Fame in 1987. Chuck Berry and Jimi Hendrix acknowledged that they were greatly influenced by the guitar playing of Walker.
• May 28, 1934 Betty Shabazz, educator and widow of Malcolm X, was born Betty Dean Sanders in Detroit, Michigan. After high school, Shabazz entered Tuskegee Institute and while in Alabama first encountered racism. As a result, she moved to New York City and enrolled at the Brooklyn State Hospital School of Nursing where she earned her Bachelor of Arts degree in 1958. Also that year, she married Malcolm X. After Malcolm X's assassination February 21, 1965, Shabazz earned her Master of Arts degree in public health education in 1970 from Jersey City State College and her Ph. D. in education administration from the University of Massachusetts in 1975. From 1976 until her death June 23, 1997, she served as director of public relations at Medgar Evers College. In 2005, Columbia University opened the Malcolm X and Dr. Betty Shabazz Memorial and Education Center and the Betty Shabazz Cultural Center was established at Mount Holyoke College. Medgar Evers College has established the Dr. Betty Shabazz Distinguished Chair in Social Justice. The Betty Shabazz International Charter School in Chicago, Illinois serves students in kindergarten through 12th grade.
• May 28, 1935 James Oglethorpe "J. O." Patterson, Jr., Bishop of the Church of God in Christ, was born in Memphis, Tennessee. Patterson earned his Bachelor of Arts degree in business administration from Fisk University in 1958, his Juris Doctor degree from DePaul University in 1963, and his Master of Religion degree from the Memphis Theological Seminary in 1985. After practicing law for a few years, Patterson became active in politics, serving one term in the Tennessee House of Representatives, two terms in the State Senate, and five terms on the Memphis City Council. In 1982, he served as interim Mayor of Memphis for 20 days, the first African American to serve in that capacity. He also served as a delegate to the Democratic National Convention in 1972, 1976, and 1980. In 1985, Patterson was consecrated a Bishop of the Church of God and Christ. He also served as president of the J. O. Patterson Mortuary. Patterson died June 25, 2011.
• May 28, 1944 Gladys Maria Knight, hall of fame singer, songwriter, actress and author, was born in Atlanta, Georgia. Knight first achieved fame when she won a talent contest on Ted Mack's "Original Amateur Hour" television show at seven. The following year, she, her brother and sister, and her cousins formed a group called The Pips and by the end of the 1950s they were touring. In 1961, the group had their first hit, "Every Beat of My Heart," and in 1962 they were renamed Gladys Knight & the Pips. The group went on to record 21 Billboard Top Twenty hits, including "Midnight Train to Georgia" (1973), "Neither One Of Us (Wants To Be The First To Say Goodbye)" (1973), and "Love Overboard" (1987), each of which won a Grammy Award. The group was inducted into the Rock and Roll Hall of Fame in 1996 and the Vocal Group Hall of Fame in 2001. In 1987, Knight began a solo career and since then has produced albums such as "Good Woman" (1991), "Many Different Roads" (1998), and "Before Me" (2006). Knight won the 2002 Grammy Award for Best Traditional R&B Vocal Performance for "At Last," the 2005 Grammy Award for Best Gospel Performance with Ray Charles for "Heaven Help Us All," and the 2006 Grammy Award for Best Gospel Choir or Chorus Album for "One Voice." Knight published her autobiography, "Between Each Line of Pain and Glory: My Life Story," in 1998 and in 2001 published "At Home With Gladys Knight." Knight received an honorary Doctor of Performing Arts degree from Shaw University.
• May 28, 1971 Ora Mae Washington, hall of fame athlete considered by many the finest female athlete of the 1920s and 1930s, died. Washington was born January 23, 1898 in Philadelphia, Pennsylvania. She began playing tennis in 1924 and by 1929 was the national singles champion of the American Tennis Association, the oldest African American sports organization in the United States. She won that title eight times in the nine years between 1929 and 1937 and won 12 straight doubles championships. Due to segregation and the unwillingness of White players to take the challenge, Washington was not able to prove that she was the best women's tennis player in the country. In 1931, in the midst of her tennis career, Washington began playing basketball for the Philadelphia Tribune team, Black America's first premier women's sports team. The Tribune only lost six times in games played in the 1930s. Washington played basketball for 18 years. After retiring from sports, she supported herself as a housekeeper. In 2009, Washington was posthumously inducted into the Women's Basketball Hall of Fame.
• May 28, 1975 Ezzard Mack Charles, hall of fame boxer, died. Charles was born July 7, 1921 in Lawrence, Georgia but raised in Cincinnati, Ohio. As an amateur, Charles was undefeated and in 1939 won the national Amateur Athletic Union Middleweight Boxing Championship. Charles turned professional in 1940 but his career was interrupted while he served in the United States military during World War II. Charles won the World Heavyweight Boxing Championship in 1950. He lost the title in 1951 and retired from boxing in 1959 with a record of 96 wins, 25 losses, and 1 draw. Ring Magazine named Charles Fighter of the Year in 1949 and 1950. In 1976, Cincinnati renaming a street Ezzard Charles Drive and in 1990 he was posthumously inducted into the International Boxing Hall of Fame. In 2009, Boxing Magazine designated Charles the greatest light heavyweight boxer of all time.
• May 28, 1981 Mary Lou Williams, hall of fame jazz pianist, composer and arranger, died. Williams was born Mary Elfrieda Scruggs May 8, 1910 in Atlanta, Georgia but raised in Pittsburgh, Pennsylvania. She taught herself to play the piano at a young age and became a professional musician in her teens. In 1925, she played with Duke Ellington and his band The Washingtonians. In 1930, Williams recorded "Drag 'Em" and "Night Life" as piano solos and the records sold well, catapulting her to national fame. By the end of the 1930s, Williams had become one of the most sought after composers of the era, composing and arranging for Ellington and Benny Goodman. By the mid-1940s, Williams had moved to New York City and started a weekly radio show called "Mary Lou Williams Piano Workshop" and began mentoring and collaborating with musicians such as Dizzy Gillespie and Thelonious Monk. After a two year stint in Europe, by 1954 Williams was mainly devoted to the Bel Canto Foundation, an effort initiated by her to help addicted musicians return to performing. Throughout the 1960s, Williams' composing focused on sacred music. One of her masses, "Music for Peace," was choreographed and performed by the Alvin Ailey Dance Company. Over her career, Williams wrote hundreds of compositions and arrangements and recorded more than 100 records. From 1977 to her death, she was artist-in-residence at Duke University and in 1983 the university established the Mary Lou Williams Center for Black Culture. Williams received honorary doctorate degrees from several universities, including Boston, Fordham, and Loyola universities. In 1990, she was posthumously inducted into the Down Beat Jazz Hall of Fame and in 1996 a Pennsylvania State Historical Marker was dedicated in her honor in front of the elementary school she attended in Pittsburgh. Since 1966, The Kennedy Center has held an annual Mary Lou Williams Women in Jazz Festival.
• May 28, 1997 John Herman Henry Sengstacke, newspaper publisher, died. Sengstacke was born November 25, 1912 in Savannah, Georgia. As a youngster, he worked for the Woodville Times, a newspaper owned by his grandfather. After graduating from Hampton Institute in 1934, Sengstacke became vice president and general manager of The Robert S. Abbott Publishing Company which published the Chicago Defender. In 1940, he took over the company. Amongst many other issues, Sengstacke worked to have African American reporters in the White House, to create jobs in the United States Postal Service for African Americans, and to desegregate the armed forces. He was appointed by President Harry S. Truman to the commission formed to integrate the military. Sengstacke founded the National Newspaper Publishers Association to unify and strengthen African American owned newspapers and served seven terms as president. He was posthumously awarded the Presidential Citizens Medal, the second highest civilian award in the United States, by President William Clinton in 2001.
• May 28, 2003 Janet Faye Collins, ballet dancer, choreographer and educator, died. Collins was born March 7, 1917 in New Orleans, Louisiana. In 1932, she successfully auditioned for the prestigious Ballet Russe the Monte Carlo but refused the role because it required her to paint her face and skin white in order to perform. In 1951, Collins won the Donaldson Award for best dancer on Broadway for work in "Out of This World" and that same year became the first African American prima ballerina of the Metropolitan Opera. Collins remained with the Met until 1954. She also taught at several colleges and dance institutions from 1950 to her retirement in the mid-1970s. In recognition of her work and dedication, the Janet Collins Fellowship was established to assist aspiring ballet dancers. Her biography, "Night's Dancer: The Life of Janet Collins," was published in 2011.
• May 28, 2007 Parren James Mitchell, the first African American elected to Congress from Maryland, died. Mitchell was born April 29, 1922 in Baltimore, Maryland. He served as a lieutenant in the 92nd Infantry Division during World War II, earning a Purple H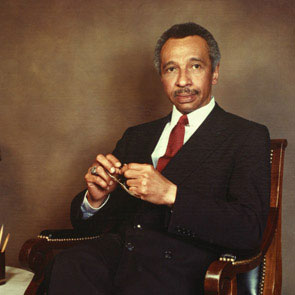 eart. He earned his Bachelor of Arts degree from Morgan State University in 1950 and that year successfully sued the then segregated University of Maryland for admission to graduate school. In 1952, he became the first African American to earn his Master of Arts degree from that school. In 1970, he was elected to the United States House of Representatives and during his 16 year tenure was a founding member of the Congressional Black Caucus and fought for affirmative action legislation. As chairman of the Small Business Committee, Mitchell attached an amendment to a public works bill that required state and local governments seeking federal grants to set aside 10% of the funds for minority contractors and subcontractors. Mitchell retired from Congress in 1986. He served as chairman of the Minority Business Enterprise Legal Defense and Education Fund until the late 1990s.