• April 26, 1886 William Levi Dawson, lawyer and politician, was born in Albany, Georgia. Dawson earned his bachelor's degree, magna cum laude, from Fisk University in 1909 and in 1912 moved to Chicago, Illinois to study at Northwestern University Law School. During World War I, he served overseas as a first lieutenant from 1917 to 1919. After returning home, he earned his law degree and was admitted to the bar in 1920. From 1933 to 1939, Dawson served as an alderman in Chicago and in 1942 was elected to the United States House of Representatives where he served until his death November 9, 1970. During his tenure in Congress, Dawson was a vocal opponent of the poll tax and is credited with defeating the Winstead Amendment which would have allowed members of the United States armed forces to opt out of racially integrated units. Dawson was also the first African American to serve as chairman of a regular congressional committee, serving as chairman of the Expenditures in the Executive Departments Committee (later renamed Government Operations).His biography, "William L. Dawson and the Limits of Black Electorial Leadership," was published in 2009.
• April 26, 1891 Orindatus Simon Bolvar Wall, the first Black man commissioned as captain in the United States Army, died. Wall was born enslaved August 12, 1825 in Richmond County, North Carolina. He was freed in 1837 when his father sent him to the Harveysburg Black School in what is now Ohio. Wall attended Oberlin College before establishing a successful boot and shoemaking business. At the start of the Civil War, he raised recruits for the 104th Colored Infantry Volunteers and in March, 1865 was commissioned as captain in the army. In 1867, Wall moved to Washington, D. C. where he graduated from the Howard University Law School. He established a law practice and served as a police magistrate and justice of the peace. For many newly freed African Americans in the district, he was the law. Wall was also elected to two terms in the district legislature, representing a majority White district. After his death, he was buried at Arlington National Cemetery.
• April 26, 1898 James A. Joyce of Cleveland, Ohio received patent number 603,143 for a new coal or oar bucket. His invention was constructed is such a way that by moving certain screws in connection with certain links the bucket would close with a scraping and cutting motion. Not much else is known of Joyce's life.
• April 26, 1943 Benedita Souza da Silva, the first Afro-Brazilian and female Governor of the State of Rio de Janeiro, was born in Rio de Janeiro, Brazil. Da Silva grew up in one of the slums of Rio de Janeiro and had a very difficult childhood, including being raped. At 16, she established a women's association and started working with the community school. Da Silva worked as a teacher and social worker until 1982 when she received her high school diploma and entered politics. That year, she was elected city councilor of Rio de Janeiro. In 1986, da Silva was elected to the National Congress and in 1994 was elected to the Senate, the first female senator in Brazil. During her time in national government, da Silva was the force behind the establishment of the National Awareness Day of Black Consciousness. In 1998, she was elected Vice-Governor of the State of Rio de Janeiro and when the governor resigned in 2002, she assumed the governorship. Da Silva left that position in 2003 and was appointed minister of state, a position she held for a year. Today, da Silva is an advocate for women's rights both in Brazil and around the world. She published her autobiography, "Benedita da Silva: An Afro-Brazilian Woman's Story of Politics and Love," in 1997.
• April 26, 1958 Giancarlo Giuseppe Alessandro Esposito, stage, film and television actor and director, was born in Copenhagen, Denmark but raised in New York City. Esposito made his Broadway debut at eight in "Maggie Flynn." During the 1980s, Esposito appeared in small film roles until 1988 when he landed his breakout role in "School Daze." Over the next four years, he also appeared in "Do the Right Thing"(1989), "Mo' Better Blues" (1990), and "Malcolm X" (1992). Esposito won Off-Broadway Theater (OBIE) Awards in 1981 for "Zooman and the Sign" and in 1993 for "Distant Fires." In 2008 he appeared on Broadway in the African American production of "Cat on a Hot Tin Roof." Also that year, he made his directorial debut with the film "Gospel Hill." Esposito appeared in the AMC series "Breaking Bad" and was nominated for the 2012 Primetime Emmy Award for Outstanding Supporting Actor in a Drama Series. He currently appears in the NBC television science fiction drama "Revolution."
• April 26, 1966 Natasha Trethewey, United States Poet Laureate, was born in Gulfport, Mississippi. Trethewey earned her Bachelor of Arts degree in English from the University of Georgia in 1989, her Master of Arts degree in English and creative writing from Hollins University in 1991, and her Master of Fine Arts degree in poetry from the University of Massachusetts Amherst in 1995. Her collections of poetry include "Domestic Work" (2000), "Native Guard" (2006), which won the 2007 Pulitzer Prize for Poetry, and "Thrall" (2012). Trethewey was named Poet Laureate of the United States in 2012. She is also Poet Laureate of Mississippi. Trethewey is currently the Robert W. Woodruff Professor of English and Creative Writing at Emory University. She has received honorary doctorate degrees from Delta State University and Hollins University.
• April 26, 1984 William "Count" Basie, hall of fame jazz pianist, bandleader and composer, died. Basie was born August 21, 1904 in Red Bank, New Jersey. At 15, Basie was playing piano with pick-up groups for dances and amateur shows. He led his first band in the mid-1930s and continued to lead bands into the 1980s, becoming widely regarded as one of the most important jazz bandleaders of his time. Many notable musicians came to prominence under his direction, including Lester Young and Buck Clayton and singers Jimmy Rushing and Joe Williams. Basie made more than 20 recordings with his big band and his recordings of "One O'Clock Jump" (1937), "Lester Leaps In" (1939), "Everyday (I Have the Blues)" (1955), and "April in Paris" (1955) are in the Grammy Hall of Fame as recordings of "lasting qualitative or historical significance." In 1958, he was inducted into the Down Beat Jazz Hall of Fame, in 1981 received Kennedy Center Honors, and in 1983 was named a NEA Jazz Master, the highest honor that the nation bestows on a jazz artist, by the National Endowment for the Arts. Basie won nine Grammy Awards and in 2002 was posthumously honored with the Grammy Lifetime Achievement Award. On May 23, 1985, he was posthumously presented the Presidential Medal of Freedom, the nation's highest civilian honor, by President Ronald Reagan and that same year his autobiography, "Good Morning Blues: The Autobiography of Count Basie," was published. In 2002, the United States Postal Service issued a commemorative postage stamp in his honor and in 2005 his recording "One O'Clock Jump" was included by the National Recording Preservation Board in the Library of Congress National Recording Registry as "culturally, historically, and aesthetically significant." The Count Basie Theater in Red Bank is named in his honor.
• April 26, 1988 Frederick Douglass Patterson, founder of the United Negro College Fund, died. Patterson was born October 10, 1901 in Washington, D. C. He earned his bachelor's degree from Prairie View State College in 1919, his Ph. D. in veterina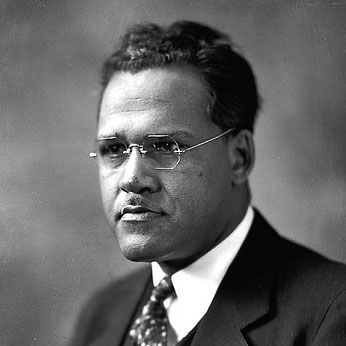 ry medicine from Iowa State University in 1923, his Master of Science degree from Iowa State in 1927, and his Ph. D. in bacteriology from Cornell University in 1932. In 1935, Patterson was appointed president of Tuskegee Institute where he stabilized their finances within a few years of his appointment. Another of his accomplishments was the formation of the Black Army Air Corps which led to the Tuskegee Airmen. In 1943, Patterson proposed the creation of a consortium of Black colleges that would raise money for their mutual benefit. The next year, 27 schools came together to form the United Negro College Fund. In 1953, Patterson retired from Tuskegee to become president of the Phelps Stoke Fund which provided financial support for the education of Africans, African Americans, and Native Americans. He served in that capacity until 1970. On June 23, 1987, Patterson was awarded the Presidential Medal of Freedom, the nation's highest civilian honor, by President Ronald Reagan and in 1988 he was awarded the National Association for the Advancement of Colored People Spingarn Medal. Patterson's biography, "Chronicles of Faith: The Autobiography of Frederick D. Patterson," was published in 1991. In 1996, the UNCF established the Frederick D. Patterson Research Institute.
• April 26, 2003 Rosemary Brown, the first Black woman in Canada to be elected to public office, died. Brown was born May 17, 1930 in Kingston, Jamaica. She moved to Canada to attend McGill University. After graduating, she worked in social work for various organizations in Canada. In 1972, she was elected to the Legislative Assembly in British Columbia, the first Black woman to be elected to a Canadian provincial legislature, where she served until 1986. In 1975, Brown became the first Black woman to run for leadership of a Canadian federal party, finishing a strong second in the election. In 1987, she was the Ruth Wynn Woodford Professor of the Endowed Chair in Women's Studies at Simon Fraser University. In 1988, she became chief executive officer of MATCH International, an organization that promoted the political, economic, and social advancement of women in developing countries. In 1993, she was appointed chief commissioner of the Ontario Human Rights Commission, serving until 1996. Brown's autobiography, "Being Brown: A Very Public Life," was published in 1989. Brown received 15 honorary doctorate degrees from universities across Canada as well as the Order of Canada, the second highest honor for merit in Canada. The British Columbia Human Rights Coalition annually presents the Rosemary Brown Award for Women.